TZATZIKI (GFO) Greek Yogurt, Strained Cucumbers, Extra Virgin Olive Oil, Garlic, Lemon Juice, Fresh Dill, Salt, Pepper, Grilled Pita
$10

HOUMOS (GFO) Chickpeas, Garlic, Extra Virgin Olive Oil, Salt, Lemon Juice, Fresh Parsley, Grilled Pita
$10

ROASTED RED PEPPER & FETA DIP (GFO) Extra Virgin Olive Oil, Garlic, Pepper, Fresh Parsley, Grilled Pita
$11

GIGANDES (GFO) Butter Beans, Tomato Sauce, Extra Virgin Olive Oil, Fresh Red Onions, Grilled Pita
$15

TIROPITAKIA Feta, Egg, Fresh Dill, Extra Virgin Olive Oil, Fresh Red Onions, Grilled Pita
$16

SPANAKOPITA Spinach, Feta Cheese, Sautéed Onions, Leeks, Fresh Herbs, Phyllo Pastry, Tzatziki
$18
KEFTEDES (6) (GF) Lean Ground Beef, Greek Herbs, Garlic, Rice Flour, Mint, Lemon, Tzatziki
$18
KALAMARI (GFO) Marinated Baby Squid, Floured, Fresh Red Onions, Lemon, Tzatziki
$19
SAGANAKI OPA! (GFO) Imported Kefalograviera Cheese, Brandy, Lemon, Grilled Pita
$20
MEZÉDES |
2-4 PEOPLE

[COMBINATION APPETIZERS]

DIP TRIO (GFO) Plaza's Famous Dips, 2 Grilled Pita
$20
KALAMARI TRAY (GFO) Kalamari, Tzatziki, Houmos, Roasted Red Pepper & Feta Dip, Seasoned Tomatoes & English Cucumbers, Grilled Pita
$32
SURF N TURF (GFO) Kalamari & Keftedes, Tzatziki, Houmos, Roasted Red Pepper & Feta Dip, Seasoned Tomatoes & English Cucumbers, Grilled Pita
$46
MADE FRESH DAILY FROM SCRATCH
Small Bowl $7 Large Bowl $10
AVGOLEMONO Chicken, Egg, Lemon Broth, Orzo Pasta, Fresh Parsley

SOUP OF THE DAY Vegetarian Base, Celery, Carrots, Onions
MONDAY – Wild Rice Mushroom Curry (July & August)
TUESDAY – Potato with Fresh Dill
WEDNESDAY (GF) – Navy Bean (GF)
THURSDAY (GF) – Lentil (GF)
FRIDAY – Split Pea with Fresh Dill
SATURDAY – Wild Rice Mushroom Curry (September to June)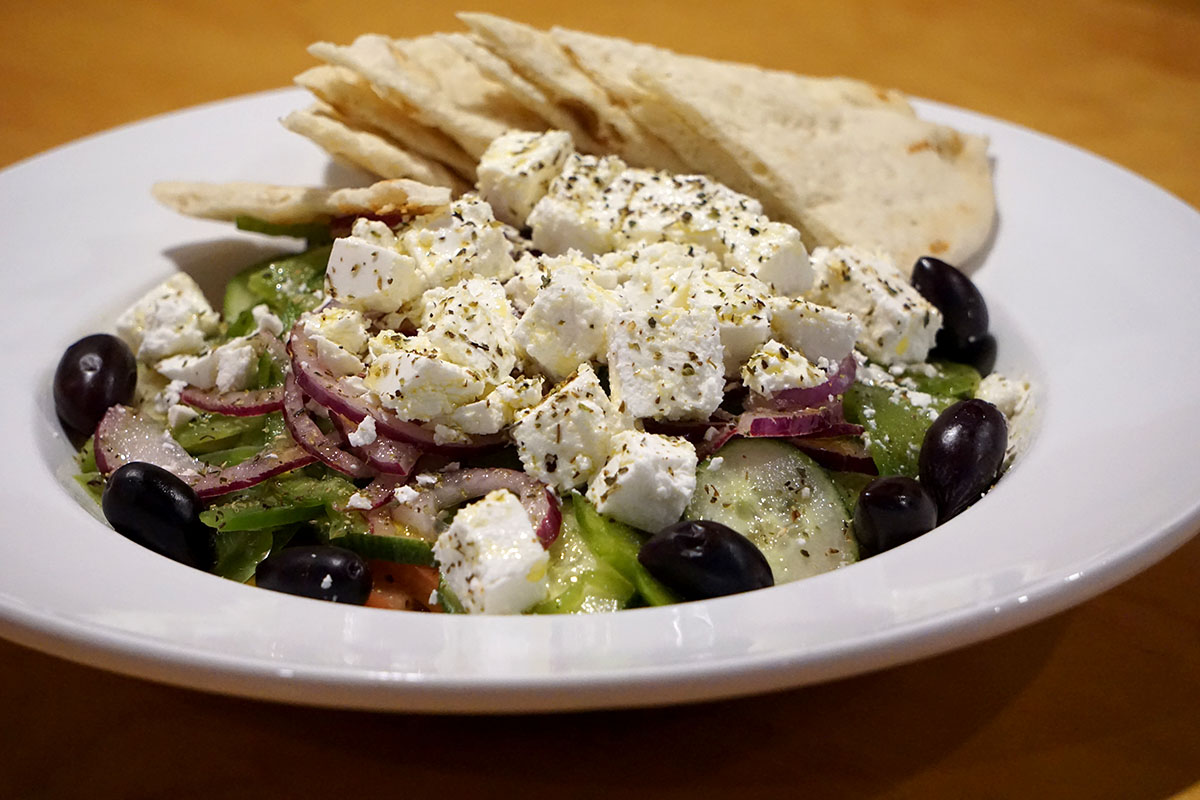 CHOICE OF GARLIC BAGUETTE, GRILLED PITA OR RICE CRACKERS
MODIFIED SALADS WILL BE BUILT NOT TOSSED
CAESAR Romaine, Butter Croutons, Shaved Parmesan Petals, Plaza's Signature Creamy Garlic Dressing
$18

GREEK (GF) Lettuce, Tomatoes, English Cucumbers, Red Onions, Green Bell Peppers, Feta Cheese, Kalamata Olives, Plaza's Signature Greek Dressing
$18

VILLAGE GREEK (GF) Tomatoes, English Cucumbers, Red Onions, Green Bell Peppers, Feta Cheese, Kalamata Olives, Extra Virgin Olive Oil, Red Wine Vinegar, Greek Oregano & Mediterranean Course Sea Salt
$20

MEDITERRANNEAN SALAD (GF) Mixed Greens, English Cucumbers, Red Onions, Mushrooms, Feta Cheese, Beets by Sia, Fresh Berries, Candied Pecans, Extra Virgin Olive Oil, Balsamic Vinegar, Mediterranean Course Sea Salt, Fresh Ground Pepper
$20
ADD
Gyros Meat $6
5oz Chicken Skewer (GF) $8
5oz Pork Skewer (GF) $8
Shrimp (5) Skewer (GF) $8
Marinated 6oz Chicken Breast (GF) $9
Kalamari with Tzatziki (GFO) $9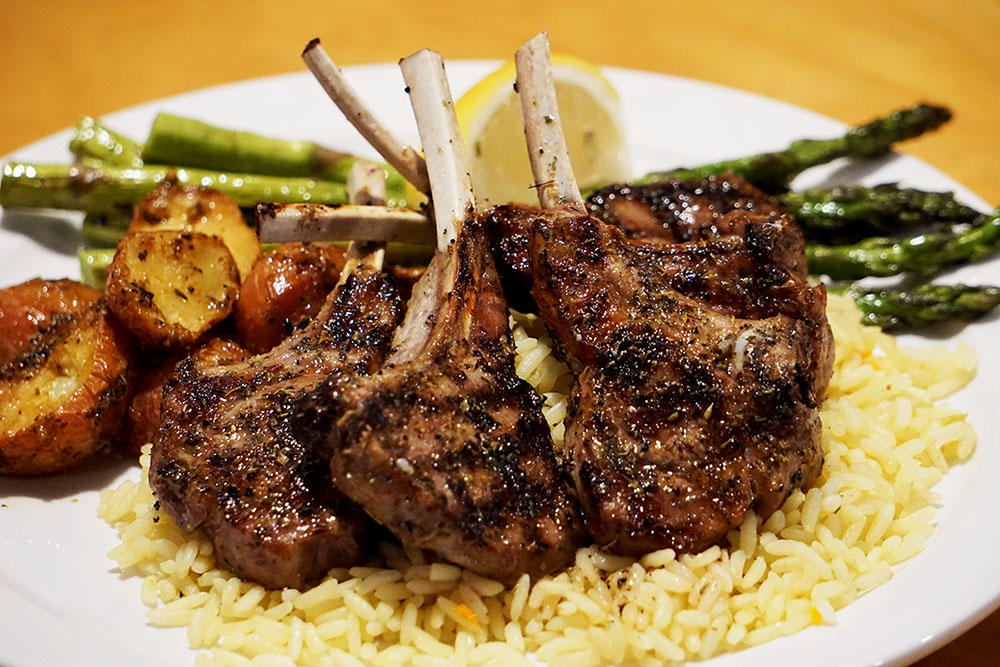 SERVED WITH SEASONAL STARTER & FRESH SEASONAL VEGETABLES
SPRING & SUMMER – SALAD | FALL & WINTER – SOUP

SPANAKOPITA Spinach, Feta Cheese, Sautéed Onions, Herbs, Phyllo Pastry, Garlic-Mashed Potatoes, Tzatziki
$28
KALAMARI DINNER (GFO) Marinated Baby Squid, Floured, Lightly Fried, Seasoned, Fresh Red Onion, Lemon, Parsley, Greek Roast Potatoes, Rice Pilaf, Tzatziki
$34
MOUSSAKA Potatoes, Zucchini, Eggplant, Seasoned Beef, Béchamel Sauce, Greek Roast Potatoes
$32
All of our Greek meat dishes have been marinated in Greek herbs & spices, charbroiled & basted with lemon garlic butter
CHICKEN SOUVLAKI (GF) Two 5oz Skewers, Greek Roast Potatoes, Rice Pilaf, Lemon, Tzatziki
$33
PORK SOUVLAKI (GF) Two 5oz Skewers, Greek Roast Potatoes, Rice Pilaf, Lemon, Tzatziki
$33
PRAWNS SOUVLAKI (GF) Jumbo Prawns (6) Skewered with Green Peppers, Greek Roast Potatoes, Rice Pilaf, Tzatziki
$38
ZORBA'S DINNER (GF) Chicken Skewer, Pork Skewer, Prawn Skewer, Greek Roast Potatoes, Rice Pilaf, Lemon, Tzatziki
$43
GREEK COMBO (GF) 1/2 Rack Ribs, Chicken Skewer, Greek Roast Potatoes, Rice Pilaf, Lemon, Tzatziki
$37
GREEK SURF N TURF (GFO) 1/2 Rack Ribs, Kalamari, Greek Roast Potatoes, Rice Pilaf, Lemon, Tzatziki
$38
GREEK STYLE RIBS (GF) Tender Baby Back Pork Ribs, Braised Low & Slow, Dry Greek Rub, Greek Roast Potatoes, Rice Pilaf, Lemon
$40
THE OLYMPIAN (GF) 1/2 Rack Ribs, Chicken Skewer, Prawns Skewer, Greek Roast Potatoes, Rice Pilaf, Lemon, Tzatziki
$46
PAIDAKIA (GF) Prime New Zealand Lamb Off The Rack, Greek Roast Potatoes, Rice Pilaf, Lemon
$56
GREEK MIXED GRILL (GF) 1/2 Rack of Ribs, Paidakia, Greek Roast Potatoes, Rice Pilaf, Lemon
$52
SERVED WITH SEASONAL STARTER & FRESH SEASONAL VEGETABLES
SPRING & SUMMER – SALAD | FALL & WINTER – SOUP
CHICKEN FINGERS (5) – Thunder Crunch Chicken Strips,
French Fries, Homemade Dipping Sauce
(Honey Dill/Mango BBQ Sauce)
$25
MANGO BBQ RIBS (GF) – Tender Baby Back Pork Ribs, Braised Low &
Slow, Garlic Mashed Potatoes
$40
FRESH "LAKE OF THE WOODS" WALLEYE (SEASONAL) (GFO) – Plaza's Signature Breading, Pan Fried in
Butter, Homemade French Fries, Tartar
Sauce, Lemon
$35
STEAK SANDWICH (GFO) – 6oz AAA Sirloin, Garlic Baguette, Plaza's Signature
Blend of Spices, Sautéed Mushrooms, Homemade French Fries
$31
ADD
Shrimp (5) Skewer (GF) +$8
Jumbo Prawns (3) Skewer (GF) +$12
BREADED VEAL CUTLETS – Gravy, Mashed Potatoes, Garlic Toast
$42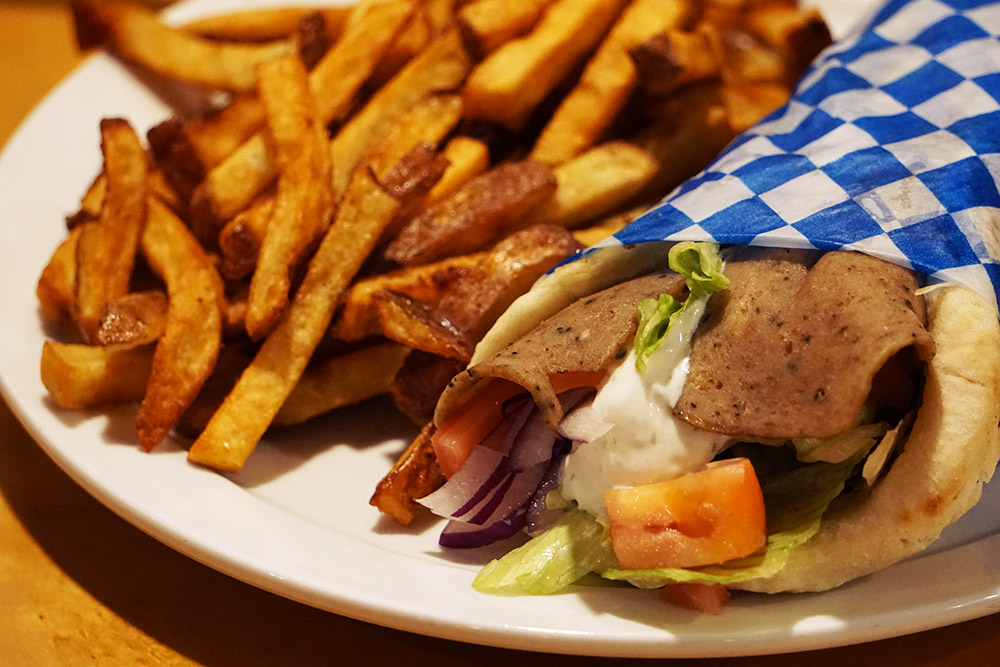 SERVED WITH SEASONAL STARTER & GARLIC BAGUETTE
SPRING & SUMMER – SALAD | FALL & WINTER – SOUP
TAGLIATELLE PASTA
Garnished with shaved permesan petals
(Pasta contains egg)


​Vegetarian Sauce $23
Meat Sauce $25
Garlic Alfredo Sauce (Contains Bacon) $28
Roasted Red Pepper Feta Alfredo (Contains Bacon) $30
ADD
6oz Marinated Chicken Breast +$9
Shrimp (5) Skewer +$8
Keftedes (2) +$6
LASAGNA
Noodles, Parmesan, Mozzarella Cheese, Baked


Vegetarian Sauce $26
Meat Sauce $28
ADD
Keftedes (2) +$6
CHICKEN PARMIGIANA
Marinated Chicken Breast, Vegetarian Sauce, Parmesan, Baked Mozzarella Cheese, Tagliatelle Noodles, Fresh Seasonal Vegetables
$32
VEAL PARMIGIANA
Breaded Veal, Vegetarian Sauce, Parmesan, Baked Mozzarella Cheese, Tagliatelle Noodles, Fresh Seasonal Vegetables
$36
GREEK PITA WRAPS & BURGERS
CHOOSE A SIDE…
HOMEMADE FRENCH FRIES
Add Gravy +$2
Make it Poutine +$5
SALAD
GREEK / CAESAR SALAD
VILLAGE / MEDITERRANEAN +$4
A BIT OF BOTH
FRIES & GREEK / CAESAR
FRIES & VILLAGE / MEDITERRANIAN +$3


VEGGIE ZORBA
Houmos, Tzatziki, Lettuce, Tomatoes, Cucumbers, Onions, Feta
$21
CHICKEN ZORBA
Skewer of Chicken, Lettuce, Tomatoes, Onions, Tzatziki
$21
GYROS
Seasoned Beef & Lamb, Lettuce, Tomatoes, Onions, Tzatziki
$21
KALAMARI WRAP
Kalamari, Lettuce, Tomatoes, Onions, Tzatziki
$21
PORK ZORBA
Skewer of Pork, Lettuce, Tomatoes, Onions, Tzatziki
$21
KEFTEDES WRAP
Greek Meatballs, Lettuce, Tomatoes, Onions, Tzatziki
$21
ADD 1/2 SAGANAKI TO ABOVE PITA WRAPS +$8
SAGANAKI WRAP
Kefalograviera Cheese, Tomatoes, Onions, Tzatziki
$21
CHICKEN GREEK SALAD WRAP
Skewer of Chicken with Greek Salad
$21
KRISPY CHICKEN GREEK SALAD WRAP
Thunder Crunch Chicken Strips with Greek Salad
$21
CHICKEN CAESAR SALAD WRAP
Skewer of Chicken with Caesar Salad
$21
KRISPY CHICKEN CAESAR SALAD WRAP
Thunder Crunch Chicken Strips with Caesar Salad
$21
BIG BOY BURGER
All Beef Patty, Bacon, Cheddar Cheese, Lettuce, Tomato, Red Onions, Mustard, Relish, Toasted Brioche Bun, Pickle
$21
MANGO BBQ CHICKEN BURGER
Marinated Chicken Breast, Lettuce, Tomato, Red Onions, Hellman's Mayo on a Toasted Brioche Bun
$21
YOUNG AT HEART [under 11]

PIT-ZZA'S


CHEESE PIT-ZZA
Vegetarian Sauce, Parmesan, Kefalograviera, Mozzarella
$10
GYROS PIT-ZZA
Gyros Meat, Vegetarian Sauce, Parmesan, Kefalograviera, Mozzarella
$12
KEFTEDES PIT-ZZA
Greek Meatballs, Vegetarian Sauce, Parmesan, Kefalograviera, Mozzarella
$13

TAGLIATELLE PASTA
GARNISHED WITH SHAVED PARMESAN PETALS
(INCLUDES GARLIC BAGUETTE. PASTA CONTAINS EGG)
Butter, Parmesan $11
Vegetarian Sauce $13
Meat Sauce $15
Garlic Alfredo Sauce (Contains Bacon) $17
ADD
Keftedes (2) +$6
5oz Chicken Skewer +$8
Shrimp (5) Skewer +$8
CHICKEN FINGERS (3)
Thunder Crunch Chicken Strips, French Fries, Honey Dill or Mango BBQ Sauce, Garlic Baguette
$15
HAMBURGER
All Beef Patty, Brioche Bun, French Fries
$12
ADD
Cheddar Cheese +$2
Bacon (2) +$3
CHICKEN SOUVLAKI (GFO)
Rice Pilaf, Tzatziki, Grilled Pita
$17
PORK SOUVLAKI (GFO)
Rice Pilaf, Tzatziki, Grilled Pita
$17
KEFTEDES (3) (GFO)
Lean Ground Beef, Greek Herbs, Garlic, Mint, Rice Flour, Rice Pilaf, Tzatziki, Grilled Pita
$17
KALAMARI (GFO)
Marinated Baby Squid, Lightly Fried, Seasoned, Red Onion, Lemon, Rice Pilaf, Tzatziki, Grilled Pita
$18
FRENCH FRIES $8
GRAVY $2
POUTINE $13
GARLIC BAGUETTE $3
PITA BREAD $3
TZATZIKI/HOUMOS $4
ROASTED RED PEPPER & FETA DIP $6
PLAZA'S FAMOUS DIPS
8oz / 16oz / 32oz
Tzatziki / Roasted Red Pepper
& Feta / Houmos
16OZ DRESSING
Greek / Caesar
16OZ SAUCES
Alfredo / Meat / Vegetarian
MISC.
Soups (32oz) / Bag Of Pita Bread (10)
MERCHANDISE
Plaza Hoodies
Small – 2XL
MADE IN-HOUSE USING FAMILY RECIPES
EKMEK Biscuits soaked in a honey citrus syrup, sprinkled with cinnamon, light custard filling, whipped cream & roasted almonds.
$8.75
BAKLAVA Layers of phyllo pastry filled with a mixture of crushed walnuts, almonds and pecans. Soaked in a cinnamon and honey syrup
$8.75
BOSTON CREAM PIE Vanilla Cake, Cream Custard, Whipping Cream, Cherry
$7.95
MARIA'S FAMOUS MOCHA ALMOND ICE CREAM
*AVAILABLE MAY-OCTOBER (GF)
Espresso Coffee, Chocolate, Orange Liqueur, Roasted Almonds, Whipped Cream, Chocolate Sauce
$8.75
CREME CARAMEL
*AVAILABLE NOVEMBER-APRIL (GF)
Creamy custard with a soft caramel top served with whipped cream.
$8.75
SEPTEMBER-JUNE
TUESDAY-SATURDAY 430-830PM
DINE IN, TAKE OUT & DELIVERY SERVICE
JULY & AUGUST
MONDAY-FRIDAY 430-830PM
DINE IN & TAKE OUT SERVICE
Regarding Take Out & Delivery Service
**PHONE LINES OPEN AT 4:00 PM & LAST CHANCE TO PLACE ORDER IS 7:30 PM**
CALL US AT: (807) 468-8173
Good To Know
The Plaza Works on a First Come, First serve seating policy. We do not accept reservations, except for New Year's Eve, Valentine's Day & the first three weeks in December for Staff Christmas Parties.

In the busy months of July & August Parties will be seated once all guests are present.

The Plaza is an air conditioned restaurant. And since we light a lot of things on fire, we need to keep a cool environment. If you are sensitive to this, you should consider bringing a sweater.
Drop Us a Line - totally fine.